TRADESHOW

Join VDS at the NAB Show in Vegas!
April 23 - 27, 2022 | Las Vegas Convention Center
Finally! We get to meet in person again! Speak with VDS members about the latest media solutions, be personally introduced to our partners, and discover the technology we can provide to help your clients complete their workflows.
PLUS SEE NEW TECHNOLOGY EXCLUSIVELY IN OUR BOOTH!
Register Now
Webinar | Versatile Distribution Services & Leostream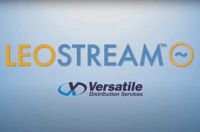 Versatile Distribution Services hosts Leostream to discuss and demonstrate Leostream 9 platform. Remote access isn't just for the data center. Leostream manages user connections to and from just about anything, anywhere, anytime and from any device including virtual and physical workstations, quickly and securely.